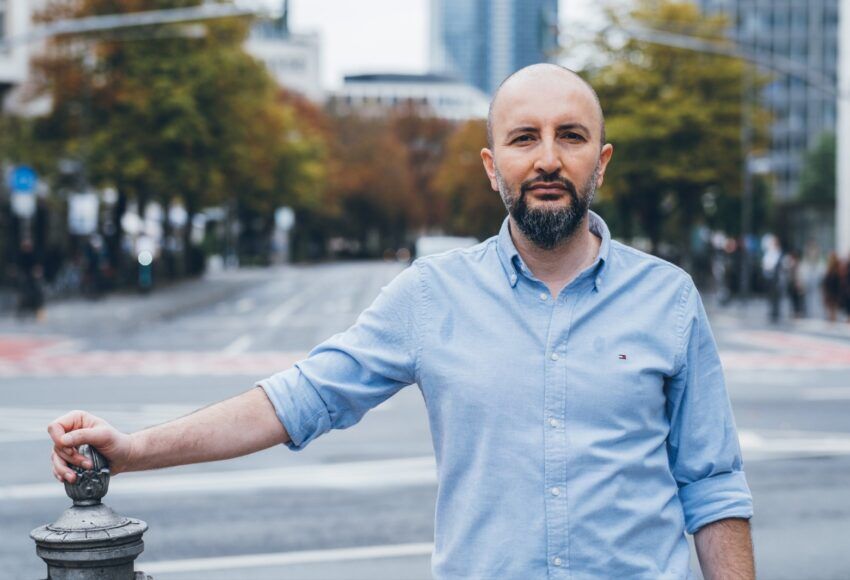 THREATS AND ATTACKS by TURKISH INTELLIGENCE AGAINST JOURNALISTS and OPPONENTS ABROAD
27 September 2022
In the past weeks, successful journalist in exile, Cevheri Guven, has exposed the shady relations between the Turkish National Intelligence Organization (MİT) and a number of journalists recruited by MİT in his popular YouTube videos[1] that have been viewed and shared millions of times. Following these videos, last week MİT targeted Cevheri Guven by publishing his home address in Germany, even the plans of his house, a photograph of Cevheri taken on the street in the SABAH newspaper.
Cevheri Guven is of course not the first journalist to be targeted by MİT in this way. In the detailed file below you will find many other cases and such threats and attacks by MİT targeting other journalists and opponents abroad. Cevheri was indeed in the published list of "assassinations and executions" in 2021 along with other critical journalists such as Can Dundar, Hayko Bagdat or Kurdish politicians or journalists. (See the entire list below.)
Citizens of Turkey; Turkish, Kurdish, Armenian, Alevi,community representatives, politicians, living in differentcountries of the world, especially in Germany, and especially after the coup attempt in Turkey in 2016, academics, journalists, opinion leaders and writers who were forced to leave Turkey, opposing the AKP-MHP regime, have been threatened for some time. Beyond threats, some of these people have also been physically assaulted in the past years.
It is known that MİT, and SADAT and DITIB in collaboration with MİT, have been involved in many crimes in Europe in the last ten years. The most important of these occurred while the "resolution process" (with Kurdish political movement) was going on in Turkey.
On January 9, 2013: Three Kurdish activist women were murdered[2] by the MİT in Paris, the capital of France.
After this incident, the allegations rose that some groups preparing to take action against the names who had to leave Turkey under the AKP rule, started to get activated for sensational attacks. Especially in Germany, in the last ten years, the German Federal Office of the Chief Public Prosecutor opened[3] 26 investigations against 35 different individuals on suspicion of being connected with Turkish intelligence units and engaging in covert espionage activities.
All these attacks, plans, threats are actually against silencing the strong opposition that has started to rise from Europe. It is also seen that Turkey has increased its intelligence activities in Europe after 2016, when dissenting voices began to rise from Europe. So much so that in order to frighten and intimidate the dissidents in Europe, even assassination plans were spread around. Just last year, lists of assassinations and executions of 21[4], then 43[5] and then 55[6] people were circulated through some social media accounts. Later, physical attacks on some journalists and writers took place[7] [8].
Because of the threats they received in this period, the Turkish dissidents living in Germany, Belgium, Austria, Switzerland, Sweden, Netherlands, France, Canada, England and the USA were both warned and taken under protection by the intelligence and police agencies of the countries they lived in.
Below are the events that took place between 20 December 2017 and 28 November 2021 in chronological order:
On December 20, 2017: HDP's Garo Paylan said[9] that he had received intelligence that journalists, writers and academics who had to leave Turkey under AKP rule would be assassinated. Garo Paylan pointed out that this allegation means that "the murder units organized by the dark hands in Turkey are in preparation for an attack".
On June 22, 2018: Journalist Recai Aksu published[10] a file titled, "Is an assassination team formed against dissident Turkish people living in Europe?" for Tele1 TV channel. In the news report, attention was drawn to the activities of the "German Ottomans" group. Interviews with businessperson İsa İlyasoğlu, who lives in Germany and was the candidate for MHP chairmanship in 2016, and Aslan Yoldaş, a former MİT member who died in Germany at that time, and the co-chairman of the European Alevi Unions Confederation Hüseyin Matwere released. It was discussed that İlyasoğlu was threatened by MİT; and Aslan Yoldaş, a former MİT member, had talks with President Erdoğan's childhood friend and former AKP deputy Metin Külünk, and Külünk asked Aslan Yoldaş for help in forming an 'assassination team'. Threats of MİT to Hüseyin Mat were also discussed.
On 21 November 2018: Former Major Cafer Topkaya, who was summoned to Turkey and arrested while while on duty at NATO, claimed[11] that a reliable source told him that SADAT was preparing to conduct operations in Germany. Major Cafer Topkaya, who had to return to Turkey after 15 July while he was on duty at NATO's headquarters in Brussels, went abroad after being in prison for nearly 1.5 years, where he spoke to the US-based Huffington Post, which broadcasts in many languages.
Stating that the MİT can carry out abduction operations in Western European countries similar to those in Kosovo and Africa, Topkaya said that Erdogan's government can use the armed militia force SADAT for this,and he has drawn attention to that SADAT is the most powerful armed group in Turkey at the moment.
On 06 December 2019: Turkey expert and political scientist at Essen University Prof. Dr. Burak Çopur known for his supportive statements about the allegations made in a documentary on the Dersim Massacre on the German state television ARD Channel declared[12] that he was threatened. In his statement on the issue, Prof. Çopur claimed that he was threatened by pro-Erdogan groups, Kemalists and ultra-nationalists.
On September 24, 2020: Feyyaz Ö., who said that he was working for MİT, claimed[13] that he went to Schottenring 7 Vienna address on Tuesday, September 15, at 13:30 local time and that MİT commissioned him to assassinate Berivan Aslan, a former Green Party deputy and academic. Regarding the allegations,Aslan said[14] "They finished those in Turkey, now they are trying to finish the opponents abroad."
On September 25, 2020: Nordic Monitor Editor-in-Chief, Journalist Abdullah Bozkurt, who exposed the unlawfulness in Turkey with his file news, was attacked[15] by three unidentified people in front of his house.
On January 02, 2021: European Champion German-Turkish boxer Ünsal Arık, who was earlier attacked with a knife after criticizing AKP President Recep Tayyip Erdoğan, received a threatening message again. He announced[16] this on his social media account saying, "The threats are really big and the situation is getting more and more dangerous.'
On July 07, 2021: Journalist Erk Acarer announced[17] on his social media account that he was attacked with a knife in his home in Berlin. Stating that he was attacked with knives and fists by three Turkish-speaking people while he was sitting in the garden of his house with his wife, Acarer said[18] in his statements: "I don't have a vital risk, we are going to the hospital now. I know the perpetrators. I will never surrender to fascism. No one should worry, these days will pass!". Confederation of Revolutionary Workers' Unions of Turkey (DİSK) Basın-İş said[19] "The truth can never be covered." regarding the attack, and sent a supportive message to Acarer: "We are with you".
On July 08, 2021: Die Welt reporter Deniz Yücel discussed[20] the attack targeting journalist and writer Erk Acarer at his home in Berlin: "Whether this attack is organized or not, the political power in Turkey is directly responsible for this and such other similar incidents. Because it is this government that exiled, imprisoned and targeted Erk and other friends. If this government were not like that, Erk would not have had to take refuge in Germany anyway."
Deniz Yücel reminded, regardless of the attack, the activities of the National Intelligence Organization (MİT) in Germany and claimed that the MİT had 6 to 8 thousand personnel, most of whom were volunteers. He made evaluations as follows: "MİT's target here is not fantastic things like in the 'Valley of the Wolves'[21]. The MİT's target here is the citizens of the Republic of Turkey itself. It is none other than us."
On July 08, 2021: Journalist and writer Erk Acarer stated in the message he published about the attack he suffered at home that he knew who the attackers were and said, 'Know that we will be the ones to close the account. The answer to 'Where is the 10 thousand dollars?' question is right here somewhere. The arms dealers of the public goods are right next to us," he said[22].
On 09 July 2021: Journalist Ahmet Nesin claimed[23] that an execution list existed for 43 people living in Europe.
On July 13, 2021: Peoples' Democratic Party Dersim Deputy Alican Önlü asked[24] as a parliamentary question in the Turkish Grand National Assembly about the preparation of an "execution list" for 21 opposition journalists, artists, intellectuals and writers living in Europe, referring to the last post of the Twitter account named "jitemkurt".
On July 20, 2021: The German police, confirming the "execution list" of 55 people, warned Celal Başlangıç about his security. Celal Başlangıç made a statement[25] on the issue: "We knew the names on the published list of 21 people. Then, information spread that there was another list of 43 people, but the names on this list were unknown. The German police who came to my house talked about a third list and said that there was a list of 55 people against Erdogan living abroad and that my name was on this list. From what the police said, we understood that there was an investigation on the subject. There's an officer handling the case and a case file. Our lawyer follows up this issue and is trying to get more information. It looks like a file that the German police take seriously."
On July 20, 2021: Journalist Erk Acarer, living in Berlin, the capital of Germany, announced that this time a threatening message with the text "You wait" was left in the garden of his house. Acarer shared[26] on his social media account that scrambled eggs were left with a paper written "You wait" in the garden of his house, and that the police informed him in the morning.
On 21 July 2021: Journalist Erk Acarer stated that the Berlin police had expanded the scope of the investigation into attacks and threats against him, following the security chief's inspection at his home. Making evaluations on the subject, Acarer said[27], "It is normal for this to happen at a time when fascism is rampant and its end is near. This regime has come to an end, but my call from now on would be 'don't add a new onesto your crimes'."
On July 21, 2021: Canadian journalist Said Sefa announced[28] that he had been threatened.
On July 22, 2021: In the news prepared by Elmas Topcu of Deutsche Welle Turkish, there were allegations[29] that after the attack on journalist Erk Acarer, execution lists containing the names of Turkish-origin dissidents living in Germany were circulated on the internet, and that the German police had warned some of these dissidents. In the news report, journalist Cevheri Güven, who has been living in Germany since 2018, stated that he was checked several times in a day by the German police.
On July 23, 2021: Writer Gökhan Yavuzel, a member of the International Writers Union (PEN), stated that the British police were also aware of the list of dissident figures in Europe and that they took the threat seriously; He stated[30] that after he went to the police station, the British police increased the security of his home to the highest level.
On July 23, 2021: Journalist Elmas Topçu, who was a guest of the "News Pursuit" program prepared by Erk Acarer and aired on ARTI TV, said[31] that this issue, which was already on the agenda after Acarer was attacked and a threatening note was dropped in the garden of his house, started to be talked about a lot and that he had also communicated with the German authorities by preparing an article on the subject.
On 23 July 2021: Musician Ferhat Tunç, who was mentioned on the "execution lists", stated in his social media account that he was informed by the German police about the lists. Tunç commented[32] on the subject: "Today, I was informed by the special duty police from Germany's Darmstadt Police Station, because my name was on the death list of 54 people. I was informed that my life was under threat. They stated that they would be in dialogue with me on the subject."
On July 23, 2021: The German Journalists' Union (DJV) called[33] on the German government to take action in the face of increasing threats, harassment and attacks against Turkish opposition journalists living in Germany. DJV President Frank Überall stated that according to the information they received from police sources, there was an execution list of 55 people, including journalists, consisting of dissidents from Turkey. Addressing Minister of Foreign Affairs Heiko Maas, Überall stated that the Turkish Ambassador should be summoned to the Ministry of Foreign Affairs. Überall added: "Heiko Maas needs to tell the Turkish Ambassador very clearly that the border has been crossed at this point and that the threats and violence against journalists who took refuge here from the oppressive regime in Turkey constitute unacceptable criminal elements."
On July 25, 2021: Former HDP Şırnak Deputy Hasip Kaplan, living in Germany, announced[34] that the police had warned him, too.
On July 26, 2021: DIE LINKE party Germany's former federal deputy Helin Evrim Sommer shared[35] a message on Twitter: "Such execution lists also endanger Germany's internal security as well."
On July 26, 2021: Gökhan Yavuzel, a member of the International Writers Union (PEN), whose name was included in the execution list, announced that he had been attacked by four people. Yavuzel stated[36] that the attackers spoke Turkish and insulted him.
On July 26, 2021: Following the increasing threats, harassment and attacks against Turkish opposition journalists living in Germany, the German Ministry of Foreign Affairs made a statement to Deutsche Welle on the subject: "The Federal Government supports freedom of the press and expression worldwide and condemns all acts of violence against journalists." He added[37] that all people living in Germany – no matter what the motive may be– should be ensured not to be subjected to violence, and that the State Department has also repeatedly and directly supported the rights of journalists in Turkey in the past.
On July 26, 2021: Selim Sadak, who was mentioned in the execution and assassination lists, stated[38] on his social media account that the Baden-Würtemberg police came to him, said that his name was on the assassination list of 55 people, and that they handed him a notification and asked for signature in return.
On July 27, 2021: The first official statement from the German Federal Government regarding the execution lists of names against Erdoğan was made, and it was noted[39] that there were signs that there were different lists. Undersecretary of the Ministry of Interior Helmut Teichmann stated in his response to the parliamentary question of Left Party Deputy Helin Evrim Sommer that there are signs that there are different lists of people who are assumed to be critical of the Turkish government, that the Federal Government does not have a concrete list, and that the investigation on the subject has been deepened.
On 27 July 2021: The German police informed journalist Hayko Bağdat that his name was on the assassination and execution list.
On July 29, 2021: Communications expert Kerem Schamberger living in Germany shared[40] a threatening message that came to him on social media. In the post, it is seen that Schamberger was openly threatened with death.
On August 2, 2021: A Belgian security official told[41] Vice.com[42] that the Germans had a list of 50 people who were stated to have been targeted, that they also had an important Turkish diaspora in Belgium and that they were trying to determine who might be under threat in their country, and that similar structures to racist groups and motorcycle gangs in Germany were also found in Belgium.
In his assessment to Vice, also a French police official stated[43] that the concern about Turkey-related crimes was increasing gradually, that the French police had focused on the Turkish-Kurdish tensions until recently, but at this point they were worried that peaceful opponents would be the target of these groups acting on behalf of the AKP.
On August 02, 2021: Peoples' Democratic Party İzmir Deputy Serpil Kemalbay Pekgözegü submitted[44] a investigation proposal to the Parliament regarding the attacks and threats against opposition politicians, artists, academics, intellectuals and especially journalists living in various European cities.
On 09 August 2021: European Champion boxer Ünsal Arık, who lives in Germany and became the target of Erdogan supporters due to his oppositional views, was attacked[45] for the second time. Arık shared[46] a video on his personal Twitter account showing that he was attacked. Ünsal Arık, who was left with a bullet in the window of his car and later the tires of his car were punched, was also attacked[47] with a knife in December 2020, for criticizing the activities of the Religious Affairs Turkish-Islamic Union (DITIB) in Germany and President Erdoğan.
On August 20, 2021: Actress and writer Hilal Nesin, one of the two women on the assassination list, said[48]that the French police were looking for a safer home for her. Hilal Nesin announced that she had contacted the police in France after it was revealed that she was one of the two women whose name was on the assassination list. Hilal Nesin also announced that she was attacked by two Turkish-speaking people while getting out of a shopping mall in Germany, and stated that these people fled after she shouted.
On October 01, 2021: It was revealed[49] that the person captured with a gun, ammunition and a list containing the names of members of the Gülen Movement by the German police in a raid on a hotel room in Düsseldorf on September 17 was an MİT agent. It was learned that the German police, after examining the messages on Ali D.'s mobile phone, determined that the person was working for the MİT. The Karlsruhe Chief Public Prosecutor's Office reported[50] that there were 'sufficient concrete signs' to lead to the conclusion that the 40-year-old suspect had gathered information about members of the Gülen organization in and around the city of Cologne to be forwarded to the National Intelligence Service (MİT).
On October 10, 2021: French journalist Guillaume Perrier shared a Twitter flood about his article about the European activities of the MİT, published[51] in Le Point Magazine, so that this important article is notoverlooked. In his tweet series, Perrier described[52] the MİT's plans and actions to kidnap Gülenists and assassination attempts against Kurdish politicians.
On October 23, 2021: Hüseyin Şenol, who has been living as a journalist in Germany for nearly 40 years, was threatened[53] with a bullet left in his mailbox. Şenol, the founder of the newspaper "Merhaba" published in Southern Germany and the author of the European Democrat website, said[54] that "Turkish or German fascists" might be behind the threat. The police continue to investigate the incident.
On November 28, 2021: The identity of the owner of the Twitter account named 'Jitem Turkey', which sent death threats to dissidents in Germany, was determined and it was revealed that it was a tradesman living in Kayseri, who had relations with the Nationalist Movement Party (MHP). The threatened communications expert Kerem Schamberger, Hamburg Left Party Deputy Cansu Özdemir and Left Party's Gökay Akbulut and Sarya Ataç made a joint press statement and shared[55] the identity of the perpetrator with the public.
THE JOURNALISTS or OPPONENTS MENTIONED IN THE ASSASINATION AND EXECUTION LISTS:
Can Dündar

Kemal Aktaş

Ferhat Tunç

Ahmet Nesin

Tarık Toros

Cevheri Güven

Arzu Yıldız

Osman Baydemir

Erk Acarer

Gökhan Yavuzel

Roni Aydın Dere

Adem Karaçoban

Abdullah Demirbaş

Günay Aslan

Celal Başlangıç

Fehim Işık

Erdal Er

Fuat Kavak

Ferda Çetin

Faysal Sarıyıldız

Hozan Kawa

Cahit Mervan

Zübeyir Aydar

Remzi Kartal

Hozan Diyar

Ezhel

Hayko Bağdat

Veysi Özer

Hasip Kaplan

Mahmut Şakar

Ali Kaya

Said Sefa

Ahmet Yücedağ

Selahattin Soro

Hikmet Serbilind

Barbaros Şansal

Sabri Eryiğit

Fevzi Özmen

Medeni Ferho

Bekir Topdiker

Hasan Hüseyin Deniz

Şivan Perwer

Kemal Kıraç

Hilal Nesin

Mirhem Yiğit

Ahmet Aktaş

Ahmet Baraçkılıç

Tuncay Doğan

Ümit Aktaş

Siyar Munzur

Murat Alpavut

Kenan Azizoğlu

Selim Sadak

Necdet Buldan

Baki Gül
Bold Medya has published[56] a news piece on September 25, 2022 with the statistics of people who applied to voluntary MİT informant role since the beginning of 2022. According to this, from the beginning of this year, the number of people applying to MİT for informant status has been 60 thousand 195. In the last two years, the most applications to MİT were made last month (August 2022) with 11 thousand 13 people. This is how the widespread reach of MİT is enabled through public engagement via an online form on their website.
---