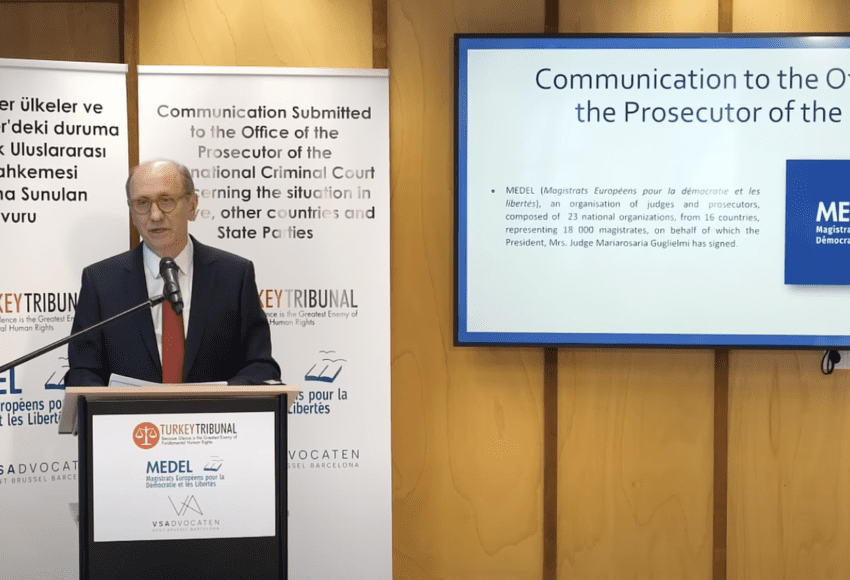 TÜRKIYE FACES INTERNATIONAL CRIMINAL COURT PROBE FOR CRIMES AGAINST HUMANITY, AFTER GROUNDBREAKING INVESTIGATION BY PANEL OF INTERNATIONAL LEGAL EXPERTS
● The Erdogan regime has subjected more than 200,000 victims to crimes including Torture, Enforced Disappearance, Imprisonment in Violation of Fundamental Rules of International Law, and Persecution.
● Evidence shows that Turkish official have committed crimes not only in Türkiye, but also within the territories of 45 ICC State Parties through kidnapping, arbitrary deprivation of liberty, expulsion, denying most essential services such as delivering ID papers and collective dismissal of opponents of the Erdogan regime.
● A large number of persons – for the first time- spoke up under the discretion rule of the ICC.
● Not all the documented Crimes can be judged by the ICC. Crimes committed against some 1300 persons have been described and analysed in detail and can be judged by the ICC.
● Mr. Karim Khan, the ICC's prosecutor must now consider whether the court will open the investigations with a possible result that high ranking officials of a NATO ally could be in cause.
On 9 February 2023, a communication was submitted to the Office of the Prosecutor of the ICC. The Communication has been introduced by:
● The Belgian lawyers office Van Steenbrugge Advocaten (VSA), under the guidance of Prof. Em. Dr. Johan Vande Lanotte, former Deputy Prime Minister of Belgium and reputed professor on International Human Rights law, on behalf of an important number of victims.
● The Belgium-based NGO Turkey Tribunal vzw, the organizer in September 2021 of the Turkey Tribunal in Geneva, on behalf of which the president Prof. Em. Dr. Marc Baron Bossuyt, former president of the Belgian Constitutional Court and former president of the UN Human Rights Commission, has signed the communication.
● MEDEL (Magistrats Européens pour la démocratie et les libertés), an organisation of judges and prosecutors, composed of 23 national organizations, from 16 countries, representing 18 000 magistrates, on behalf of which the President, Mrs. Judge Mariarosaria Guglielmi has signed.